The CSIA countdown has begun! As you plan your trip, we want to help provide a few Puerto Rico travel details to make your trip as memorable as possible. Below we have shared some of our favorite Puerto Rico insider tips in hopes that your trip will be as much fun and as relaxing as possible!
Weather Forecast
April is generally the end of the dry season in Puerto Rico, and it looks like some rain might creep into the forecast while you are visiting. If it does, don't worry, it will likely be "here one minute, gone the next". It looks like a pressure system may push the rain past the island without any issue, but be prepared for rain each day, on and off. The temperature will be beautiful though, staying in the low 80's during the day and dropping to the low 70's at night.


Dinner to Remember
If you love fine dining, then you have to try Marmalade while you are near San Juan. Extremely high end, and pricey, this Caribbean/French restaurant is sure to be a lasting memory of your Puerto Rican trip. Everything on the menu is top notch, but the white bean soup with truffle oil will be the one dish you tell all your friends about. Make reservations thru OpenTable.com.
Want to have some great food on a budget? Then look no further than Acapulco Taqueria Mexicana. Some of the freshest and most delicious Mexican you will ever eat, this local favorite makes all of their salsa fresh and features some unique taco recipes to choose from.
Rum Runners
Bacardi and Don Q rum brands tend to steal the rum spotlight in Puerto Rico, and rightfully so. However, if you are looking for an incredible rum that you may have never heard of, check out top ranked Trigo Reserva Añeja. Only small amounts ever make it stateside, and the hand-blown glass bottle and champagne cork make it a stand out. Another popular Puerto Rico vacation activity is to take a rum distillery tour. One of the most popular is the Bacardi tour. Advance reservations are recommended and can be made through the Bacardi website.
Transportation
Uber and Lyft are not available in Puerto Rico and public transportation can be a huge pain. Best to rent a car or plan to use the hotel's transportation services. Most hotels will shuttle to and from the airport at no charge, tips are appreciated. Contact your hotel ahead of arrival to confirm.
Renting a car? Here is a great resource to read prior to driving in Puerto Rico.
Old San Juan
Only 25 minutes west of the airport, you will find Old San Juan, the oldest city in the United States. Prepare to feel like you have been swept away to a European city sitting on the Mediterranean Sea. The cafes, shopping, and restaurants are all in an area of seven square blocks, making the cobblestone streets easily walk able. Wear comfortable shoes and ditch your car, the streets are narrow and parking can be a challenge. There is even a trolley available if you want to take a break from the hills. See shops like Ralph Lauren, Burberry, Coach, etc. You can find several artisans here that sell caretas, traditional Puerto Rican papier-mache masks; these make great souvenirs for family back home! Don't miss out on the Castillo San Felipe del Morro at the northwestern tip of Old San Juan. Built in the 16th century, this walled fortress was once used to defend Puerto Rico against invading colonies. Today it is a must see on the island and offers a beautiful photo opportunity to commemorate your trip.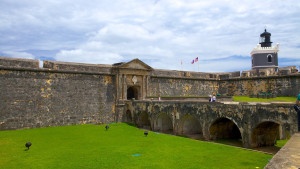 Language and Currency
Both Spanish and English are spoken throughout Puerto Rico. English is spoken nearly everywhere near and around San Juan. The further you move away from San Juan, the more you will hear Spanish. The US dollar is the key currency.
Backyard Rainforest
Just 30 minutes below the Grand Melia Resort and conference location, sits El Yunque, the only US protected rainforest. Home to the western hemispheres largest cave system, an incredible series of waterfalls, and miles of tropical hiking trails, this is a must see for any eco-adventurer! Walk among flora and fauna that you are likely to never see first hand again. Keep an eye out for wildlife like the Puerto Rican Parrot, extremely rare and highly endangered. You can book a tour through one of many companies, or go it alone. Travel to and from the forest is straightforward and easily navigable. To make the most of your time, it is highly recommend that you spend some time doing online research before setting off to visit the rainforest. One of the most helpful sites to do so can be found here.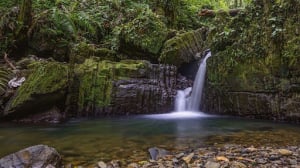 Flamenco Beach
Just a ferry ride from the eastern port town of Fajardo (thirty minute drive from the conference), you will find Isla de Culebra, home to the world renowned Flamenco Beach. A hidden gem, Flamenco Beach has some of the most beautiful turquoise waters, white sands, and lush tropical landscape you will ever see. A ferry system runs to and from Culebra daily, but can be unreliable. With a tight schedule, a better option may be to charter a high speed catamaran instead. Several leave from Fajardo daily and host a half to whole day snorkeling trip to Culebra. One that is highly recommended is East Island Excursions.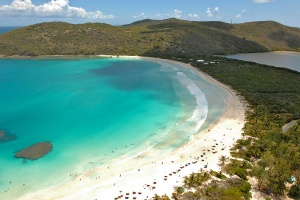 Both Don Mast (pictured left) and I (Jeff Knepper, pictured right), would love to meet you. Please stop by Booth 42 to say hello and learn more about the Canary Labs Data Historian.