The Canary Enterprise Historian is the platform that acquires and stores large volumes of data generated from process applications. Our data historian software is used in applications ranging from 100 tags to over 25 million tags, demonstrating scalability and performance without the need for special computing hardware. It has the capability to store more than 1 million samples with Timestamps, Value and Quality (TVQs) per second, easily meeting the requirements of high speed applications. The Canary Enterprise Historian can obtain data from many disparate data sources, allowing easy access via one central and easy to use interface.
The Canary Enterprise Historian administrative application can easily access any historian on your network; allowing monitoring and configuring from a single location. Administrative features such as automatic dataset validation, archiving, roll over and roll up, audit trails and performance monitoring make the Canary Enterprise Historian capable of performing in a complex enterprise. Multiple Canary Enterprise Historians can be used in environments that require redundancy and high data availability.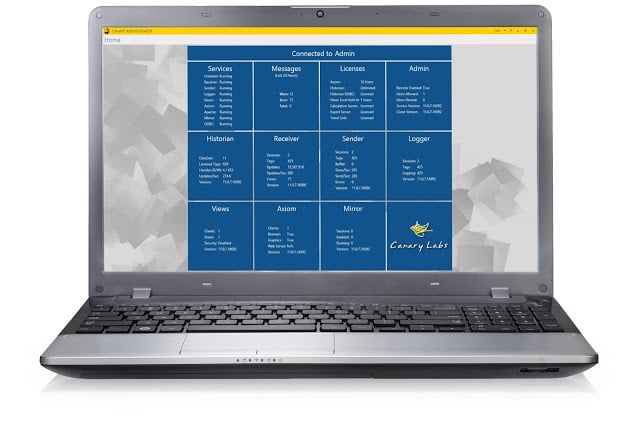 Access Your Data Anywhere
The Canary Logger provides connectivity to a wide variety of measurement devices via OPC DA, file processing and SQL. As the data are collected the Logger caches it locally in the event of a communication outage. When the data are received and stored in the Enterprise Historian it's made available to your client applications via Web Services, ODBC, OPC UA, OPC HDA and API. These options enable your users to view data in clients ranging from Excel to custom in-house solutions.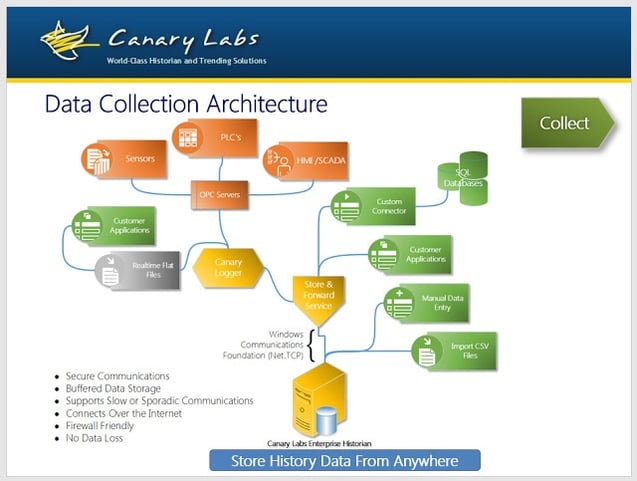 The Enterprise Historian Data Mirror provides customers with the ability to transport realtime and snap shot images of data from a primary historian to a secondary historian. The secondary historian can be on the same network but installed on a separate PC for disaster recovery purposes or the data could be transported via the web to a facility at another physical location.
System Requirements
Server (minimum):
Dual Core 2.0 GHz Processor




4 GB RAM

Windows 7 x64 or greater

Windows Server 2008 x64 or greater

.NET 4.5 or greater

10 GB Free Disk Space

UPS Highly Recommended
Data Collection Client:
Windows 7 or greater (32 or 64 bit)

.NET 4.5 or greater
Trial Demo License
If you would like to experience the Canary Enterprise Data Historian firsthand, we would be glad to give you a complimentary 30 day trial. You can set up 100 tags and see for yourself how fast, reliable, and simple our operational historian is to use. Follow the link below to get started.