Since 1985, Canary Labs has been focused on reliably and quickly recording time series data into it's process data historian. Named after the canaries that were carried into coal mines by miners to detect toxic gases, Canary software assists engineers and control operators in finding conditions that are not easily detected; providing early warning and alarms that will help prevent minor issues from becoming major disasters.

Canary software supports multiple platforms
Available Canary Products
Fast and reliable, our historian is capable of storing data for millions of tags or can be scaled to as few as ten tags.
Analyze your process data in the most advanced trending software available. Feature rich and accessible from desktop to smartphone.
Trend Reporter and Excel Add-in
Quickly pull your process data into Excel and generate reports with ease.
Generate audible alarms, and receive e-mail, SMS/text, or voice notification whenever your process is outside your desired limits.
Whether you need just one, two, or all four of the software solutions Canary offers, you will find that all are seamlessly integrated and simple to install, train, and manage.
Canary Data Historian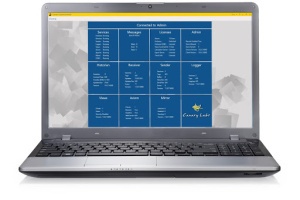 Canary Data Historian Admin Screen
The Canary Data Historian is built upon a proprietary data base that is not relational. We do not use SQL which means you will never have to manage your database. No matter how long the data historian logs or how many points/tags you monitor, you will not spend money and manpower maintaining your data.
Canary provides an easy to use and reliable data historian that unlocks your process data to increase profit, reduce loss, and forecast equipment failure.
The Canary Data Historian has become the industry benchmark for speed, reliability, and capacity. Read a full performance review where 25,000,000 million tags were tested.
Historian highlights
Can support up to 25,000,000 data points
Writes up to 4,000,000 points per second
Handles sub second data down to 100 nanoseconds
Limitless storage - requires no database management
Customize security down to tag access
OPC, HDA, and OBDC compatible
Application Programming Interface (API) for custom connections
Read about...
The 12 Reasons You Need The Canary Historian
Data Historian Architecture
Canary connects to your sensor data via OPC server and is able to collect from PLC, HMI, and SCADA. The Canary Logger is installed on the OPC server and sends time series data into the Canary Store and Forward Service.
The Store and Forward Service works by using two services communicating over a single TCP port. By design they can both be local or on separate systems spanning different networks. Installed alongside the logger is the sender service, and housed inside the data historian is the receiver service. When data is transferred by the sender service, by either the logger or an API, it is stored to a local disk cache. Once cached the sender service sends the data to the receiver service. The receiver service will cache this to disk and acknowledge to the sender it has received the data and the sender will then delete its cache. The receiver then sends the data to the historian where the historian confirms all data has been received, prompting the receiver service to delete its cache.
If communication between the logger and the data historian would be interrupted, you will not loose data. The logger creates a hard buffer that is not released until a response is received indicating that all data was successfully archived. Once communication is re-established, all data will transfer from the logger buffer to the sender service.
The Store and Forward Service was also engineered to allow custom applications and connectors to interface with it. Canary has given users the ability to also manually enter data as well as import CSV files into the Store and Forward. Utilizing WCF protocol, Store and Forward will then communicate all time series data to the receiver service on the Canary data historian.
Data Historian Administration
The admin tool that Canary offers makes data historian administration simple and quick. It allows you to manage multiple historians and sites, and quickly assign security permissions. From the administrator you can monitor the logger, sender, receiver, and historian. You can easily view all services that are currently running, as well as oversee your license administration, and view any error messages.
Just watch how easy it is to use and navigate:
Canary Axiom Trending Software
In 1993 Canary launched it's first Windows based trending software, allowing users to easily access and visualize process data trending analytics. Since, Canary software has continued to advance, constantly improving and providing clients new solutions that better help them understand their historical time series data. In 2013 Canary launched it's newest trending option, Axiom.
Innovative, easy to use, and feature rich, Axiom transforms your ability to trend process data and gather knowledge from your data historian.
Axiom trending software highlights:
Multi-platform; supports desktop, laptop, tablet, and smartphone
Quickly add or remove trends in less than 30 seconds
Create calculated trends and write them back to the data historian
Limitless trend charts can be created and shared with other users
Easily time shift to compare live data with previous historical data
Set high and low limits that change the color of the trend when met
Axiom can be installed as a "thin client" on any desktop or laptop, or simply accessed via browser on you tablet or smartphone. The ability to take your data anywhere, and look in on your process at anytime, from any location, has become very popular with supervisors and operations managers. Accessibility to your process data historian allows you to better manager you people and your process, turning your knowledge into action which drives profits.
Reduce the strain on IT with an easy to manage system featuring server-centric architecture. Click Once technology ensures that every time a user launches any Canary software, any updates are automatically executed. There is no need to track down every computer and reinstall new product with every new release or update. Axiom is also extremely easy to use and fast to learn. Read about my experience when I first learned the Axiom platform.
Featuring infinite customization opportunities, AxiomView allows full HMI capabilities without the worry of control. Allow supervisors, managers, and other "non-control" related employees to see the process just like an operator without any worry of accidental downtime.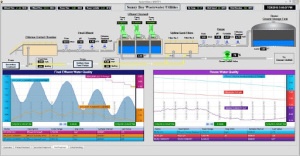 AxiomView screenshot