When shopping for a data historian, we know that you have serveral choices. Here are the 12 reasons that Canary will be your best return on investment.
1. No Data Loss
At Canary, we believe you need access to all of your data, forever. That's why we never discard any of your data. Other data historians "compress" their archive which creates gaps or voids in your time series data resulting in the loss of time, value and quality parameters (TVQs). Canary's data historian does not do this, instead it permanently keeps all of your time series and process data. To reduce the impact on storage space we use intelligent engineering techniques, but we never get rid of any TVQs!
2. Axiom Offers Superior Trending Software
Axiom trending software is built around the concept of quickly and simply offering analytical data in an easy to use program. This idea sounds like it should be easy to accomplish, but in reality, it is quite difficult. By listening to our customer's needs and requests, we built Axiom to offer the features you need and will actually use.
8 Things Axiom Offers We Know You Will Love:
- Available on multiple platforms, from desktop to smartphone

- Offer Click Once, server-centric installation, the software updates automatically

- Calculated trends with the option to write them back to the historian

- Charts must show real-time data along with the historical data

- Time shifts and interval averages can be displayed on any trend

- User flexibility in arranging the display layout and formatting

- Staff can be fully trained in 40 minutes

- High and low limits with color and shading options as well as limit lines
3. Reliable Beyond Belief
Solid, reliable software that just works. If you aren't already using our data historian software, specifically engineered to continue to run without constant supervision, you should ask yourself, "Why am I wasting money on the ridiculously expensive maintenance contract I'm currently paying another vendor?" Canary software has a long life and proven history of reliability; some of our oldest systems have been running for more than 15 years, more than a century in "computer years". Our annual CustomerCare fees are extremely affordable and offer constant product upgrades, training, and continued support as needed.
4. Extreme Performance - It's Crazy Fast!
Let's talk speed. The Canary data historian can record sub-second data down to 100 nanoseconds! Not only can we handle fast data, we can handle large volumes of fast data. Our system has been tested to 4,000,000 TVQs per second. Now that's fast! Even more impressive, we can retrieve at a rate of 9,000,000 TVQs per second.
So how do we do it? It's all in our proprietary data base. Canary's approach does not try to "pump up" a general purpose database and then "shoe horn" the data into it. Relational databases were not designed to handle the 24/7 data loads that occur in process monitoring. Generally speaking, our data historian is at least 10 (or more) times faster than any general-purpose database for these applications.
5. Extensive Customer Base
Since our founding in 1985, we have accumulated over 17,000 implementations in 27 countries around the globe. We are proud to have passionate customers such as the US Navy, Hershey's Chocolate, Philip Morris, Valero Energy, NASA, Canadian Forest Products, Kinder Morgan, Texas Instruments, Colonial Pipeline, European Southern Observatories, City of Boca Raton Water, BP, and Merck … just to name a few.
6. Can It Be This Easy?
Our software is EASY to install, setup and use. The installation of the product takes only a few minutes. It's easy to setup and configure data collection and retrieval. Step-by-step instructions are provided that illustrate how to browse and select the tags to log and how to perform data retrieval and analysis … just click and go. It simply does what you expect and gives you access to powerful tools without getting in the way. Forget how to use a certain feature? No problem, just visit our Support Page. It's full of quick, three minute long videos, refreshing you on how to use certain product features. Best of all, it's all available at no charge to you!
Here is an example of a support video:
[youtube https://www.youtube.com/watch?v=2o6dlOS5_Us]
7. Half The Price Of Others
Do we need to say more? Not unless you like spending more money for less functionality! In today's competitive global market, you need an edge to stay ahead; start making data-driven decisions that can increase efficiency and reduce downtime. Many customers know they need relief from expensive data historians and maintenance contracts, they are just unsure of a potential solution. Enter the Canary Confident Program, specifically designed to install our data historian over your existing service. Priced specifically with your budgetary needs in mind, our system generally pays for itself in less three years from the monies you save from your old data historian maintenance fees. How is that possible? Simple. The Canary data historian is so reliable it will save you tens-of-thousands of dollars in maintenance and support fees, guaranteed.
8. Mobility Redefined

When we say multi-platform, we mean multi-platform. Access your process data using either our "thin client" application, perfect for a desktop or laptop user, or launch a session from your tablet or smartphone using Window's credentials. For the first time ever, your data goes where you go! Away from work but want to check a series of data points? Build a brand new chart and add trends on the fly while running Axiom trending software through your web browser.
9. It's In The Name
When we founded our company in 1985 it was based on keeping an accurate and complete record of what was happening with our customer's process and other information. We wanted to provide an early "alert" to things going awry, things you may not normally be able to sense.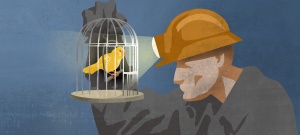 Paying homage to our central Pennsylvania roots, we turned to the rich history of local coal mining. Miners carried caged canaries into the deep tunnels and used the birds as a primitive alarm. If dangerous gases such as carbon monoxide collected in the mine, the gases would kill the canary before killing the miners, thus providing a warning to exit the tunnels immediately. For over 20 years, our Canary products have provided the foundation of data that you need to perform analysis and to be alerted to "out of the normal" conditions before they result in significant loss or downtime.
10. The Technology Leader
We don't believe in technology for its own sake, but we do think market leaders should employ the best technology available to deliver benefits to their customers. Some examples include our superior and full OPC compliance. Our leading capabilities include providing OPC HDA support, VMware support, Microsoft Vista support, support for Windows 64 bit Operating Systems, C# scripting and much more.

11. Incredible Customer Support
Data historians are the one-thing we do. We don't produce hardware, we don't function as a control system integrator, we produce lightening fast, ultra reliable data historians. This singular focus enables and drives us to provide outstanding customer support and service. Outstanding support is always one of the top reasons our customers tell us that they have picked us.
"We are very pleased with the Canary product. It is very efficient. We have been collecting 20,000 tags at one second intervals since 2006. It still runs flawlessly. We are just now taking the first 10 years of data offline to store it to the side, not because we have to, but just because we can. We haven't had any issues with databases. Canary's technical support is by far one of the best software providers technical support that we deal with. There is always someone available immediately if or when there is every any issues."
- Mike Tufts, Control Supervisor, City of Boca Raton Florida
We always respond with knowledgeable data historian and trending software support. You don't get the run around, "I'm sorry, that's not my department" is not in our vocabulary. Our support staff doesn't operate from a phone script and they don't use a troubleshooting manual. They are an integral part of our software development process and understand our software from the top to the bottom. Anytime you contact customer support, your call comes directly to our corporate office in Central Pennsylvania. Have a question that is more suitable for one of our software engineers? Our customer support department works directly alongside our engineering and development team. In fact, Canary is one of the few software companies world-wide that handles all of their own customer support completely in-house. Want to try it for yourself? Just call, (814) 793-3770, or email customer support and see how fast we reply!
12. No Loss of Data
Ok, we admit it, we're repeating #1, but we think it is that important. At Canary, we believe your data is your data – period . That's why we never discard any of your data or use any type of compression algorithm that throws your data away.