When a company decides to make a capital investment in data historian software, it can often be overwhelming. Searching through the complete list of data historians in the process database family will reveal nearly a dozen data historians in the marketplace, not to mention open source options that an IT team may decide to attempt. By definition, data historian software should be:
- Storing all data in raw format




- Easily accessible for users and data inquires




- Require little to no database management




- Secure with redundancy
The personal preference of the end user will greatly guide which data historian software they prefer, but a few important features such as scalability, speed, reliability, and overall system pricing, both initial and recurring, should be heavily considered.
As an attempt to try to make the process easier, a direct comparison between the Canary software and both FactoryTalk and AVEVA PI has been compiled for your review. Although subjects like ease of installation, training, and overall simplicity of use cannot be addressed, hopefully this comparison will identify strengths and weaknesses of the software.
Overview
Without arguement, AVEVA PI (formally OSIsoft) and Canary have been industry leaders for years. PI has offered a data historian software solution for over 30 years and has thousands of installations around the world. The PI System is comprised of the PI Server, the PI Interface, and PI Clients.
Often I am asked how Canary aligns with PI functionality. You may be surprised to learn that both solutions offer nearly identical features, just under different naming conventions. Here is a chart to simplify the offering comparison.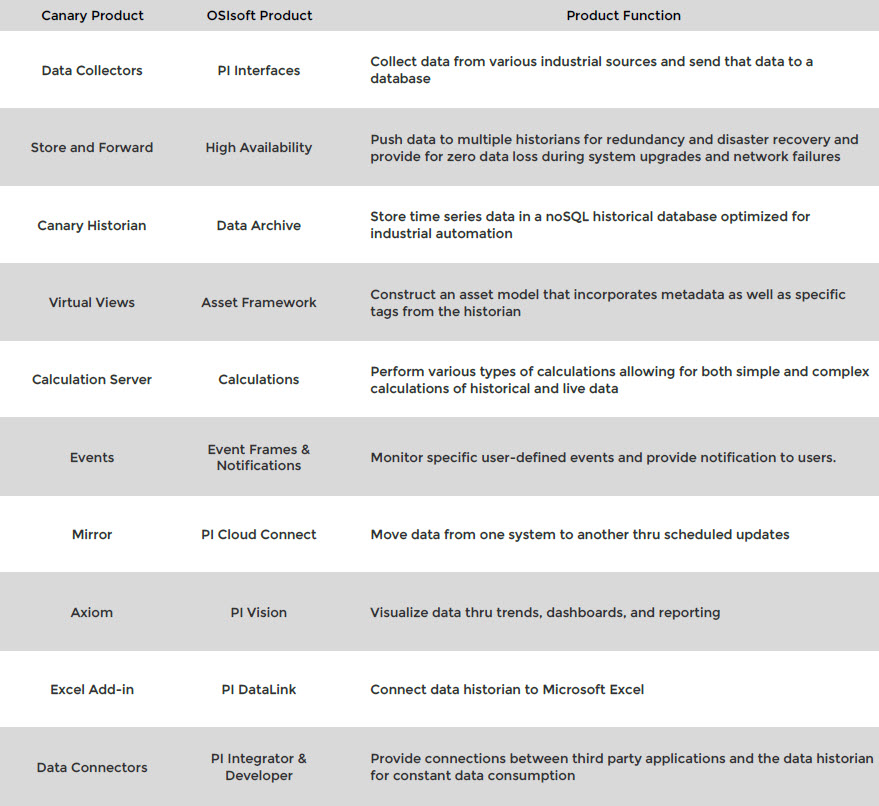 To learn more about the PI system, we would recommend this helpful video:
Rockwell offers a suite of tools based around their FactoryTalk Historian which is essentially a private-labeled version of the PI Server developed when OSIsoft was independent of AVEVA. Trending tools are offered through their VantagePoint software. Below is a quick introduction to their data historian software as well as a quick trend mock up.
The Canary Data Historian has a lot of similarities to the PI Server and FactoryTalk in that it is built on a proprietary NoSQL database. One of the huge differentiators is that the Canary Historian NEVER INTERPOLATES DATA. You can read more about this important feature here.
To understand the Canary System, we recommend watching this helpful whiteboard explainer:
Another special feature of the Canary System is the ease and speed of deployment. All Canary tools are engineered to be installed without the need of a third party.
Canary's database also stands apart in it's speed. With a write performance of over 1.5 million inserts per second and a read speed double that, Canary will not bottleneck at the Historian.
Canary offers a similar track record to AVEVA PI with customers in over 75 countries and over 20,000 installs.
System Size and Limitations
As you can see from the FactoryTalk product page, only 500,000 tags can be monitored on a server with a top write speed of 100,000 tags per second. Also of note is the limit of only 50,000 tags per interface with a maximum write speed of 25,000 tags per second.
No public information regarding system capacity or write speeds is made publicly available by OSIsoft. It is mentioned that millions of tags can be stored and that 10,000's of points can be writen at sub-second intervals on their website and online literature. There is a bit of confusion here since FactoryTalk is essentially a PI Server and FactoryTalk states different information regarding capacity. Our assumption is that PI is capable of more than what is listed based on industry acceptance.
In 2014 a complete study was conducted by President Gary Stern and the lead engineering team. The Canary system was tested to capacity and the following performance benchmarks were found:
Maximum Tag Count: 25 million plus

Maximum Write Speed: 1.5 Million data points per second

Maximum Read Speed: 2.8 Million data points per second
Data Visualization and Trending
FactoryTalk Vantagepoint appears to be based on the vintage product OSIsoft Coresight and allows the Rockwell user to visualize their historical data on multiple platforms and see custom graphs alongside trends and data points. The strengths seem to fall within it's ability to be customized to show the user the data they want to see. However, for heavy trending analysis, the system seems rather limited.
OSIsoft's Coresight offering, now named PI Vision, is similar if not the same as Rockwell for trending abilities. The traditional trending software will allow a user to overlay several trends and compare data on the fly as well as historically without much fuss. Coresight/Vision also offers multi-platform viewing as well as a level of customization that includes graphs and tables overlayed with trending.
Sensor data stored in the Canary data historian can be trended and visualized in dashboards with Axiom. Axiom trending software features a trending and visualization package that is designed to give the user the ability to quickly and easily compare historical data trends to current live data trends.
Tools such as
Adhoc calculations with multiple tags

Annotations

Aggregated data based on time intervals

Events

Asset Management
and more, allow the Canary user the ultimate performance of data comparison. Also multi-platform Axiom can be viewed on desktop, smartphone, or tablet and is server based, not requiring individual installation or app download.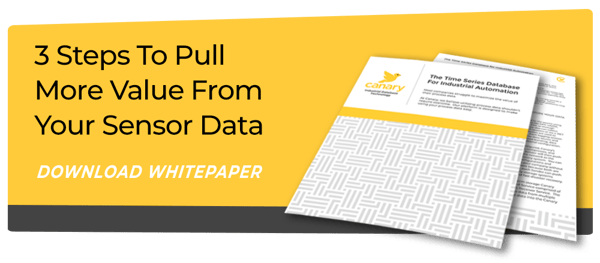 Axiom also makes it easy for each user to build custom dashboards loaded with information. The built in Edit Mode operates from any modern web browser on Linux, Mac OS, Android OS, and Windows machines, tablets, and most smartphones.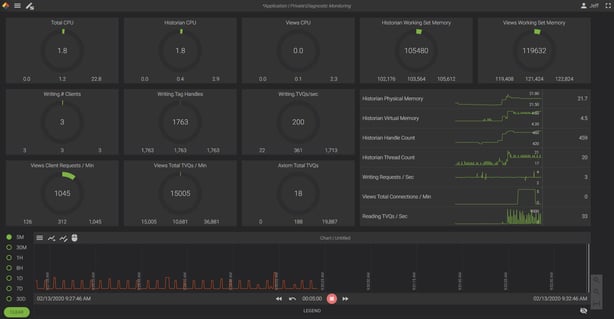 Axiom applications can vary greatly, and since everyone has the ability to create their own dashboards, you get to pick the style and layout. 'Drag and drop' design tools built right into the HTML application mean you can easily add content and visualization as needed. Axiom is all about 'self service' analytics.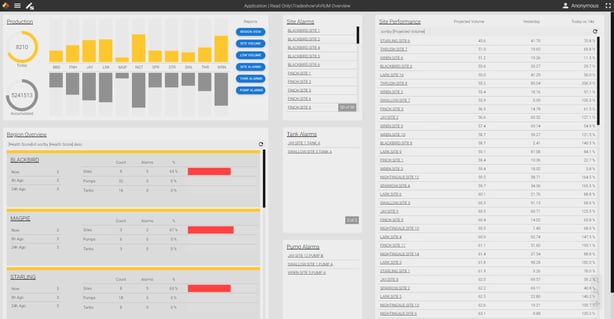 Pricing
Neither Rockwell or AVEVA publish online pricing guides, making this final category difficult to compare. However, Canary provides all pricing directly on their website along with a pricing calculator so you can build your system and receive instant pricing.
Review
Ultimately, whether you choose Rockwell, OSIsoft, or Canary, you will have a solid database with a tools that you can use to trend or visualize your industrial process data. We believe that Canary offers the following advantages.
Why Try Canary?
1. No Data Loss
At Canary, we believe you need access to all of your data, forever. That's why we never discard any of your data. Other data historian software "compress" their archive which creates gaps or voids in your time series data resulting in the loss of time, value and quality parameters (TVQs). Canary's data historian software does not do this, instead it permanently keeps all of your time series and process data. To reduce the impact on storage space we use intelligent engineering techniques, but we never get rid of any TVQs!
2. Axiom Offers Superior Trending Software
Axiom trending software is built around the concept of quickly and simply offering analytical data in an easy to use program. This idea sounds like it should be easy to accomplish, but in reality, it is quite difficult. By listening to our customer's personal needs and requests, we built Axiom to offer features you need and will actually use:
Built in HTML, use from a desktop, tablet, or smartphone

Anyone can build a chart or dashboard with the built-in design tool.

Ad hoc calculated trends

Time shifts and interval averages can be displayed on any trend

Staff can be fully trained with 20 minutes of review
3. Fairly Priced
What good is a solution if it is too expensive or adds unnecessary cost? Canary is priced in a way that you can add it to your operation and actually see an ROI in the first six months. Explore more pricing or request a customized quote from our site.
4. Extreme Performance - It's Crazy Fast!
Let's talk speed. The Canary data historian can record sub-second data down to 100 nanoseconds! Not only can we handle fast data, we can handle large volumes of fast data. Our system has been tested to 4,000,000 TVQs per second. Now that's fast! Even more impressive, we can retrieve at a rate of 9,000,000 TVQs per second.
So how do we do it? It's all in our proprietary data base. Canary's approach does not try to "pump up" a general purpose database and then "shoe horn" the data into it. Relational databases were not designed to handle the 24/7 data loads that occur in process monitoring. Generally speaking, our data historian is at least 10 (or more) times faster than any general-purpose database for these applications.
5. Incredible Customer Support
Data historian software is the one-thing we do. We don't produce hardware, we don't function as a control system integrator, we produce lightening fast, ultra reliable data historian software. This singular focus enables and drives us to provide outstanding customer support and service. Outstanding support is always one of the top reasons our customers tell us that they have picked us. Read the personal review by Mike Tufts, a long time Canary data historian software user below:
"We are very pleased with the Canary product. It is very efficient. We have been collecting 20,000 tags at one second intervals since 2006. It still runs flawlessly. We are just now taking the first 10 years of data offline to store it to the side, not because we have to, but just because we can. We haven't had any issues with databases. Canary's technical support is by far one of the best software providers technical support that we deal with. There is always someone available immediately if or when there is every any issues."
- Mike Tufts, Control Supervisor, City of Boca Raton Florida
We always respond with knowledgeable data historian and trending software support. You don't get the run around, "I'm sorry, that's not my department" is not in our vocabulary. Our support staff is the definition of efficient. They do not operate from a phone script and they will never use a troubleshooting manual. They are an integral part of our software development family and understand our software from the top to the bottom. Anytime you contact customer support, your call comes directly to our corporate office in Central Pennsylvania. Have a question that is more suitable for one of our software engineers? Our customer support department works directly alongside our engineering and development team. In fact, Canary is one of the few software companies world-wide that handles all of their own customer support completely in-house. Want to review it for personally? Just call, (814) 793-3770, or email customer support and see how fast we reply!
If you would like a live demo of either Canary's data historian or plant historian software, as well as our data trending software, Axiom, easily schedule below.