Blogging should be a strategic practice that your business takes very seriously. If done correctly, blogging will help you increase your organic search results for the keywords that matter, help identify your company as a problem solver to your customers, and give you an industry relevance that can be difficult to ascertain through a website alone.
Watch Blogging for Business and learn how to implement a strategy that will drive more traffic to your website without having to hire another agency or marketing firm.
[youtube https://www.youtube.com/watch?v=2FiQ8CJQN6U]
Follow these best practices anytime you blog. In fact, download, print, and tape to the side of your monitor!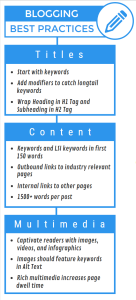 Great Resources Online Resources
Keyword Density Tool (Free) - http://tools.seobook.com/general/keyword-density/
Search Rank Tool (Free) - http://www.seocentro.com/tools/search-engines/keyword-position.html
Learn more about Organic Search Results and SEO!
If you would like a copy of the PowerPoint from the webinar, just request it below.